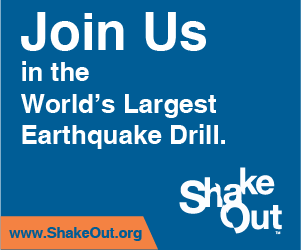 The Great ShakeOut Earthquake Drill is occurring in many locations throughout the country and across the globe on Thursday October 21, 2021. Most self-led drills will happen on 10/21 at 10:21AM local time however, if you're in the central or eastern U.S. and looking for a way to join a ShakeOut drill with others, there are options for you to participate in an online drill.
To access the online drill, find your state or area listed below and follow any of the links provided at the time indicated. The events will be broadcast simultaneously across multiple platforms. Each online drill event will include presentations, safety overviews, and a virtual drill.
Lastly, if you haven't already make sure you sign up and register to participate in the drill at www.ShakeOut.org. You can also share the online drill with others. Be sure to include the link to the drill and use #ShakeOut.
Note: If can't participate at one of the times indicated , you're encouraged to use the links provided so you watch a replay of the live stream.
East Coast/SouthEast Region Online ShakeOut
Who: States in the Eastern Time Zone or SouthEast ShakeOut Region
(DC DE FL GA MD NC SC VA WV)
When: October 21, 2021 from 9:45AM to 10:25AM Eastern Time
How to Access: Click any of the following links on the appropriate day/time for your time zone/region
Central U.S. Region/States Online ShakeOut
Who: States in the Central Time Zone or Central U.S. ShakeOut Region
(AL AR IA IL IN KS KY LA MO MS NE OH OK TN)
When: October 21, 2021 from 9:45AM to 10:25AM Central Time
How to Access: Click any of the following links on the appropriate day/time for your time zone/region